WE DON'T BELIEVE IN STANDARD BUSINESS ANSWERS. WE BELIEVE IN BESPOKE SOLUTIONS THAT CREATE SUSTAINABLE ADVANTAGE
Value creation is at the core of our being. We have developed certain competitive capabilities and own the critical resources to build a knowledge base that offers new solutions to existing problems to our clients and more profitable approaches to the running of businesses.
Arator uses its strong network and businesses relationships, portfolio intelligence, deep functional and industry expertise and proven executional practices to design and execute customized value added solutions for each of our engagements.
We don't believe in standard business answers. We believe in bespoke solutions that create sustainable competitive advantage and build success business stories.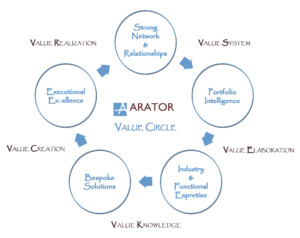 Strong Network & Relationships
Strong business connections and mutually benefited industry alliances. Our professionals have solid and enduring industry relations and work together as one team across functions and industries to help our colleagues deliver superior performance.
Portfolio Inteligence
Existing investment and project management portfolio generate first-hand, reliable data. Incorporate proprietary analysis and updated knowledge into business issues and decisions
Industry & Functional Expertise
We operate and add value in sectors that we know and we understand. Industries: Travel & Tourism, Health Care, Retail & Consumer, Industrial & Construction, Telecoms. Functions: Strategy, Strategic Communications, Investor Relations, Digital Solutions
Bespoke Solutions
We provide all the expertise, creative thinking, commitment, resources and support to enable our clients and partners to grow on the most efficient and effective way. We provide customized services, compelling and actionable to help companies work more productive and achieve measurable results.
Executional Excellence
Highly experienced professionals with cumulative years of experience in multinational and multifunctional environments. Successful and proven performance track record on delivering superior results.